THE PROBLEM –Wafios Nail Header
Custom Noise-Tamer floor saver enclosures as in the case of the Wafios Nail Header helps to create a less noisy environment for your workers.
Excessive noise¹ Wafios Nail Header
Limited floor space
¹ Although noise-induced hearing loss is one of the most common occupational illnesses, it is often ignored because there are no visible effects. Hearing loss usually develops over a long period of time, and, except in very rare cases, there is no pain.
NIOSH Sound Level Meter App
The NIOSH Sound Level Meter (SLM) app combines the best features of professional sound levels meters and noise dosimeters into a simple, easy-to-use package. This app was developed to help workers make informed decisions about their noise environment and promote better hearing health and prevention efforts. LEARN MORE DOWNLOAD APP HERE
SOLUTION
Custom Noise-Tamer floor saver enclosure. Floor saver enclosures have inside dimensions as little as 1" from the extents of the machines being enclosed saving valuable floor space. Large doors or rolling tunnels are usually provided to allow access to the entire machine.
ENCLOSURE SPECIFICATIONS
14 GA. Damped outer barrier/skin (3.125#sq.ft.)
4″ bagged absorption material (6#/cu.ft.)
22 GA. Perforated steel inner surface
Acoustic seals on both door ends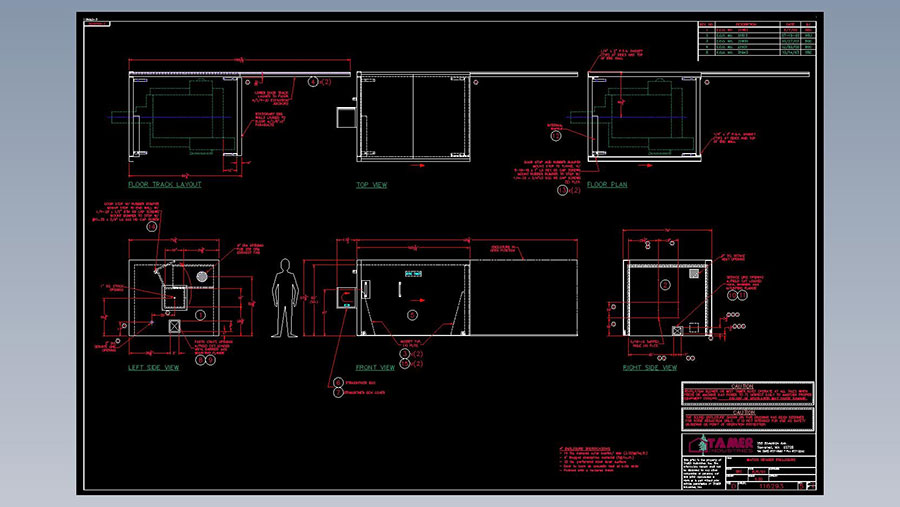 OVERVIEW OF BENEFITS
Noise reduction (see before and after readings)
Inverted "U" shaped rolling tunnel providing access to 2-sides and top
Powered ventilator keeps the machine cool
RESULTS – EVALUATION
The starting noise level was measured at 105.4 dBA. Upon completion of the Noise-Tamer enclosure, an ambient reading was measured at 82.1 dBA. With the enclosed Nail Header operating the measured reading was 88.2 dBA. The high ambient level of 82.1 has influenced the readings taken after the installation of the enclosure. To determine the actual effectiveness of the enclosure additional readings should be taken when ambient levels can be reduced to a minimum of 20 dBA below the operating machine levels so as not to impact the enclosed machine readings.
REDUCE NOISE AND GAIN A CLEANER,
QUIETER, SAFER WORKING ENVIRONMENT…
If necessary, Tamer can perform on-site acoustic readings to determine the
frequency profile of your application. With this, we will determine the best
treatment method and materials to control your noise problem.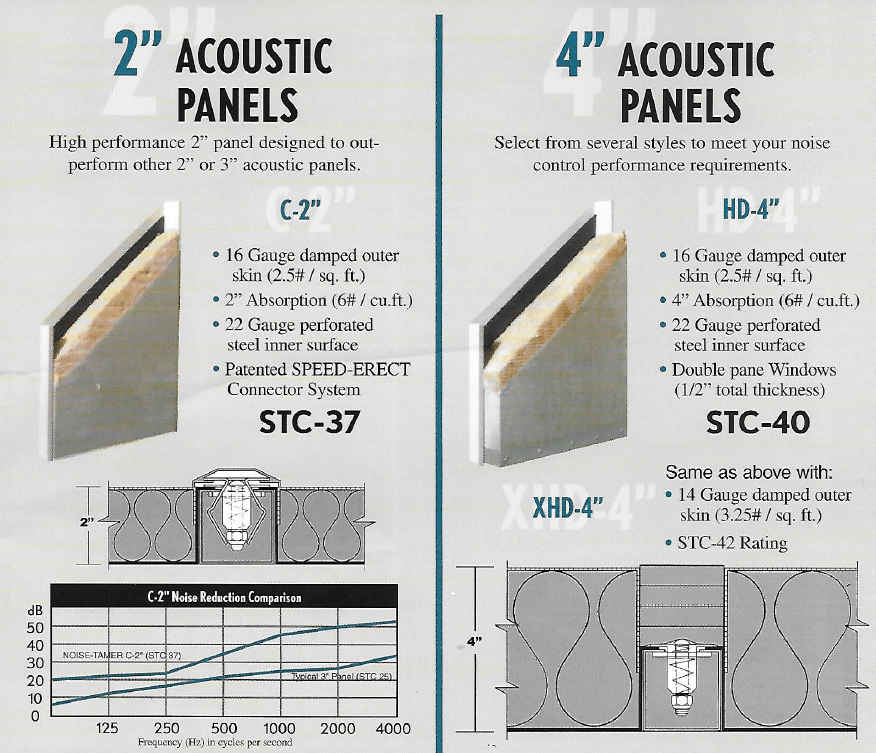 Most enclosures utilize our standard 2" or 4" thick modular panels but we don't stop there. Our ability to customize your enclosure to meet the specific needs of your application means you receive an engineered solution that not only achieves the required noise reduction, its conducive to daily operation and machine maintenance.