THE PROBLEM:
(2) Large reciprocating compressors create unwanted noise.
Machinery is loud and can damage hearing. In fact, Noise, or unwanted sound, is one of the most common occupational hazards in American workplaces. Custom Noise-Tamer floor saver enclosures as in the case of the Reciprocating Compressors helps to create a less noisy environment for your workers.
¹ Although noise-induced hearing loss is one of the most common occupational illnesses, it is often ignored because there are no visible effects. Hearing loss usually develops over a long period of time, and, except in very rare cases, there is no pain.
NIOSH SOUND LEVEL METER APP
The NIOSH Sound Level Meter (SLM) app combines the best features of professional sound levels meters and noise dosimeters into a simple, easy-to-use package. This app was developed to help workers make informed decisions about their noise environment and promote better hearing health and prevention efforts. LEARN MORE DOWNLOAD APP HERE
SOLUTION
Noise-Tamer Alum-A-Frame modular enclosure system utilizes cast corner joints and extruded aluminum frame members to form a skeleton ready to accept snap-in acoustic panels which can easily be removed to facilitate service requirements.
ENCLOSURE SPECIFICATIONS
Gauge galvanized steel wall and roof panels
2"-6#/cu.ft. mineral wool (bagged) lining
With 22 gauge galvanized perforates steel inner surface
Alum-A-Frame Series 24/50 frame with die-cast aluminum corner joints
and pre-cut aluminum extrusion-mill finish, 0.078 wall thickness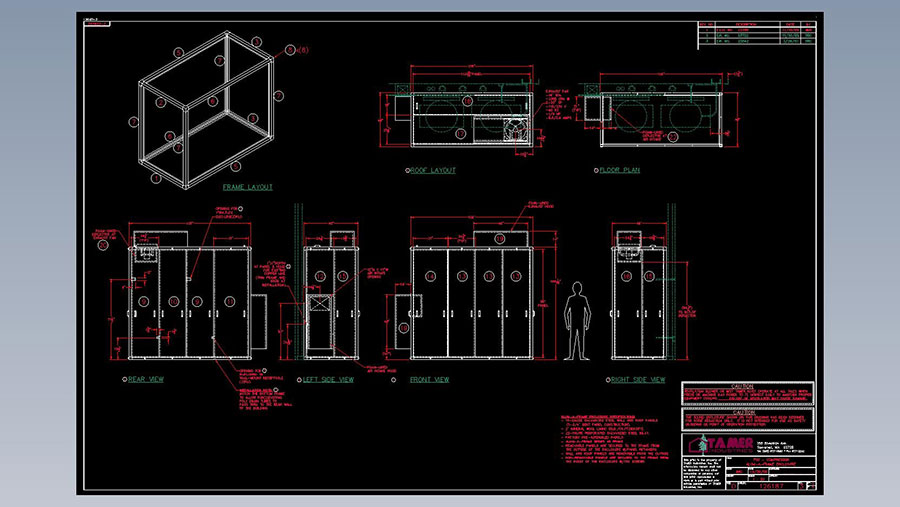 OVERVIEW OF BENEFITS
Substantial noise reduction
Pre-engineered design
Easy access through removable panels
RESULTS – EVALUATION
Sound pressure levels were taken approximately 3 feet away from the noise source. The starting noise level was measured at 88 dBA. Upon completion of the Noise-Tamer Alum-A-Frame enclosure,
the reciprocating compressor noise was reduced to 69.1 dBA (an 18.9 dBA reduction)
To learn more contact us or fill out the Get A Quote form below.