Needs Assessment- What are the needs of the client:
A potential customer provides a description (machine make, model) of the application.
Tamer keeps a database of machinery that has been previously enclosed.
In these cases, budgetary pricing, drawings and sometimes photos can be provided. For custom machinery, the customer (mostly OEM's) can often offer machine drawings in CAD or 3D format.
Tamer can review and discuss potential enclosure designs to develop pricing. If machine drawings are not available (often the case for end users) dimensional sketches will need to be provided either by the end user, representative or a Tamer salesperson.
Implication Process- How Tamer implements the engineering and design?
Once a quote has been provided and a purchase order has been received the engineering staff prepares a detailed AutoCAD drawing or 3D model for customer approval.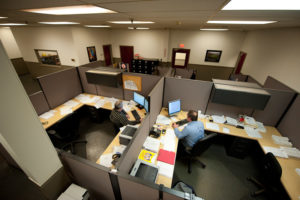 In some instances, a Tamer engineer may need detailed dimensional information. In those cases, we will need to visit a customers site; this will ensure the accuracy of the buildout.
After the customer reviews and approves Tamer's design the process begins. We design all the required components into our enclosures.
Pre-Assembly/Shipping:
In some cases, Tamer will preassemble the enclosure before painting and packaging.
In instances, where automated enclosures have been purchased by a customer Tamer, will test run the automatic doors to assure proper operation at the customer's facility.